Tiffany Laserna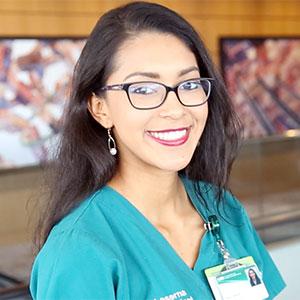 Tiffany Laserna is from Birmingham and a recent graduate from the University of Alabama. There are many reasons why she loves nursing, one of those reasons is that it gives her an opportunity to make a difference in her community. She approaches nursing with compassion and a willingness to make a difficult situation for her patients, better. Her last year of college has been both challenging and gratifying because she has had to put her classroom knowledge to work in real life situations. Tiffany has relied on her professors to help her through her last year of school and her parents as inspiration to reach her goals.
Tiffany says that mentors can help give structure while transitioning from college to a professional worklife. If you are looking for a mentor in nursing, the National Association of Hispanic Nurses has several chapters around the country. You can also sign-up on the Mentor Connection. For Tiffany, her participation in NAHN helped her understand the needs in her community.
If you would like to learn how to be successful in the nursing field with the help of a mentor click here.